What To Do When You Don't Know What To Do?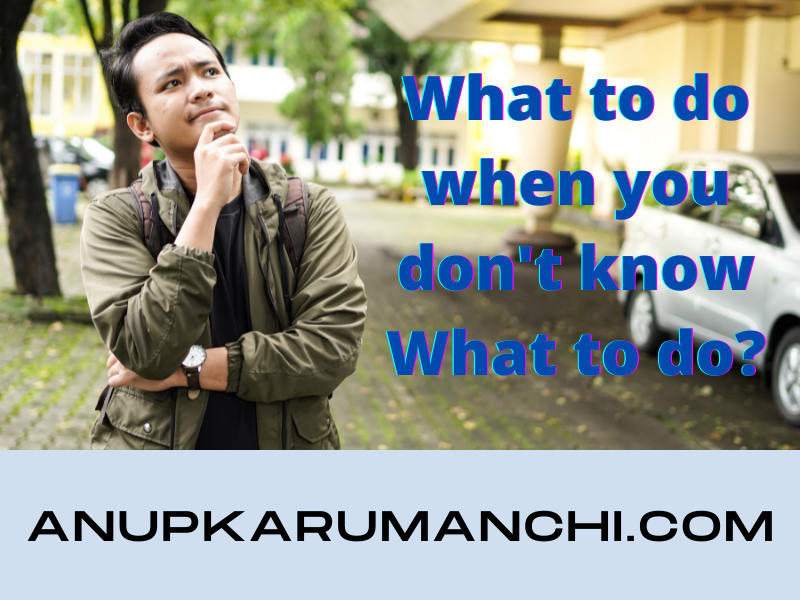 Many among us might have been halfway through our lives and still don't know What to do when you don't know what to do. It isn't easy for all to know what they want and then plan and get it executed.
Life doesn't happen as per our plans. Many people struggle and even become depressed as they cannot figure out what to do in life. This article will talk about the top 11 things you can do when you don't know what to do.
Best 11 Things To Do When You Don't Know What To Do
Below are the best 11 things to do when you don't know what to do, at whatever stage of life you are. It's important that you're self-aware of your emotions and possible actions. Confusion is a common phenomenon in humans we have to make key decisions in our life. The following article guides you to clear confusion
Read Also:
I don't know what to do with my life?
Things To Do If You Are A Student
Go Easy On Yourself
If you are confused about what to do, don't feel bad about it. We all have been in that situation sometime or the other. If you force yourself for answers, it will do you no good. If you are a student, the best thing you can do is set small, realistic goals that you think can be fulfilled. Setting unrealistic goals will put a lot of burden on you. Finding answers to everything and planning out might not always work. Life has its turns that are out of our control. The best thing would be to go with the flow.
Learn Something Creative
If you don't know what to do instead of thinking about it, utilize that time to do something productive. You can either read a book or a blog or listen to some motivational video or podcast. These can boost you up or help you detangle your thought process. However, don't try to learn something very complicated. You would instead choose something exciting and passionate about.
Consult Others About Your State of Mind
If possible, speak to others who have gone through the same situation. It can be a friend from your school or a relative. Tell them clearly about what you are looking for and what is missing in it. At times people give excellent suggestions that may cause you not to take any decision at all.
Things To Do If You Are A Man Under 40
Accept The Problem And Be With It
You should know that we don't know what to do or how to proceed at some point in our lives. It is a common problem. It can be annoying and painful, but you need to accept it as a part of the process and move on. There are many uncomfortable things that we need to experience in our lives. But, it would help if you accepted all of this without stressing yourself.
Focus On The Work Process More Than The Result
Instead of thinking about the consequences and what will happen later, we can focus on what needs to be done currently. Whether you want to change your job or learn something new, don't be scared. Don't think about what will happen in the end. Whatever reason you are considering this, it has to be good, so start with it instead of thinking about how things will end.
Take up Goal Fulfilment Challenges
Instead of wasting your time thinking about what to do with life, set up small goals and take up challenges to fulfill these goals. Start with a 15 days challenge and see if you can reach your first goal. As you keep taking these little steps, you will slowly grow up a habit and reach your destination.
If you set up a deadline and try to finish your work by then, you will not only be productive but will reduce procrastination as well. Let's say you want to spend more time with your family. Make a goal to have one family trip every weekend. If you can go on straight for a month, you will regain your confidence and self-motivation.
Try To Question Yourself
We often feel confused in our lives when we don't know what to do with it. However, we don't ask ourselves. You need to look deep inside you and figure out what is it that you want, and what is it that you enjoy. Think of what your ideal life can be like and what all is in that life. Once you answer all these questions, you will know which path to choose.
Be Active and Build your Network
You need to be very active. You can forget your woes and shift your concentration to others for a while. Try connecting with people and observing them. You never know as you keep socializing. You might meet someone who shows you the path you should follow. You constantly need to be in touch and explore as much as possible. If you try to help others solve their problems, you might as well find a solution to your question.
Things To Do If You Are A Woman
Say Yes To Any New Opportunity
Even if you are unsure where this path might take you, it is always a wise decision to say "yes". It might be true that you still don't know what to do, but at least accept the offers that you have on hand at present. You can always back out if it doesn't suit you.
Belief In Yourself
Instead of worrying about the consequences, trust your instincts. Don't be scared of taking a step. You can start with little steps for anything that comes up to your door. As you keep going, you may find the answer you were looking for. Being impulsive and making rash decisions will worsen the situation.
Focus On The Positive Aspects
We all are good and bad at a few things. No one is perfect. So, if you think you are the worst or incapable, you are wrong about it. There have to be some good things about you. Try to focus on those and relate them to your life. As a woman, you might want a lucrative career, so in that case, try to see what sort of job matches your interests and hobbies. You will love your job if you already know about and want to know more about it.
Frequently Asked Questions
I don't know what to do with my life, and I am scared
If you are afraid, then remember there are more people like you. Try to grow your network, connect with people and talk to them more about it.
How to figure out what to do with your life career?
The best way to figure out about a career is through introspection. Once you know what you are looking for and what kind of job matches your interests or hobbies, you are all good to go.
What to do with my life at 40?
At this age, a lot of people go through midlife crises. You can try learning something new and creative. It is never too late to begin.
I am depressed because I don't know what to do with my life
Once again, if you are depressed about life, try to think of the good aspects. You can talk to others and ask them to guide you.
Conclusion
I hope this article has given you some solutions for when you don't know what to do. Life is unpredictable and not in our control. But that should not affect our day-to-day well-being.
The journey is not easy, but as you discover your interests, you can figure out your life's purpose and take all the necessary steps to reach that goal. If you want to read more articles like this you can visit anupkarumanchi.com